In Part 2 of this Brief History, there was already mention of some major innovation, the development of full colour printing from 1764, giving rise to what we know as nishikie 錦絵, justly advertised as 'Brocade Prints from the Eastern Capital,' Edo that is, Azuma nishikie 東錦絵. These would gradually supersede the traditional benizurie 紅摺絵 that had been predominant in printmaking for the two preceding decades.
In the literature, the earliest nishikie are generally associated with Suzuki Harunobu 鈴木春信 act 1760-70. This is only based on the circumstance that, and don't ask me why, Harunobu got involved in the sudden temporary craze of distributing picture calenders, egoyomi 絵暦, among one's friends for the New Year, starting in Meiwa 2 明和二年, 1765, and already much less in Meiwa 3 明和三年, 1766. Indeed, why not Torii Kiyomitsu 鳥居清満 act 1745-77 or Torii Kiyotsune 鳥居清経 act 1757-78, both with a much more impressive record of production? Or even more to be expected, Ishikawa Toyonobu 石川豊信 act 1746-79. Anyway, we see the first use of the new printing technique with Katsukawa Shunshō 勝川春章 act 1764-93 as well as with some amateur designers of prints. And as for prints of actors, Harunobu wisely soon left the field to Shunshō.
A major innovation of Shunshō and his Katsukawa workshop was that he established close connections with the various fan clubs of kabuki actors. So they soon started designing narrow upright hosoban prints in triptych or pentaptych compositions, catering to the various fan clubs. However, as most kabuki aficionados apparently only bought the sheets portraying their favourite actor, it is now almost impossible to find such complete triptych or pentaptych compositions in either private or public collections. Checking the ukiyo-e.org site, for example, I only found among a total of 3675 hosoban sheets one hexaptych composition, seven pentaptych compositions and eight tetraptych compositions, and 74 triptych compositions (6%) as well as 175 diptychs (9.5%) – where we may sometimes also ask ourselves if these were complete compositions or just parts of triptychs and pentaptychs. Anyway, this means that we are left with almost 85% of single prints that were mostly picked by the kabuki fans out of their original multi-sheet compositions.
We must also realize that another major innovation of the Katsukawa artists consisted in rendering a direct and vivid interaction between the actors in triptych and pentaptych compositions, an aspect that alas goes forlorn when these are reduced to incomplete single print images. Of course, there is also a number of prints that was conceived as single sheet compositions from the beginning, but they really seem to have been a minority. One easy way to identify prints from multi-sheet compositions is when there is a simple décor or stage setting running to both the right and left edges — as in all pics seen here, and all by Katsukawa Shunshō — that we can almost always see from about 1770, although its absence is still no guarantee that we are looking at a single print composition. Anyway, we can well conclude that the kabuki lovers in these days demanded much more than just one or two prints after performances in the first and the eleventh months, as had largely been the case in the preceding decades. Indeed, from the 1760s we are gradually getting closer to the Floating World 浮世 where kabuki 歌舞伎 thrives, as do guides to the Yoshiwara 新吉原 pleasure quarter, illustrated popular novels 草双紙, collections of kyōka 狂歌集 poems, and the print culture.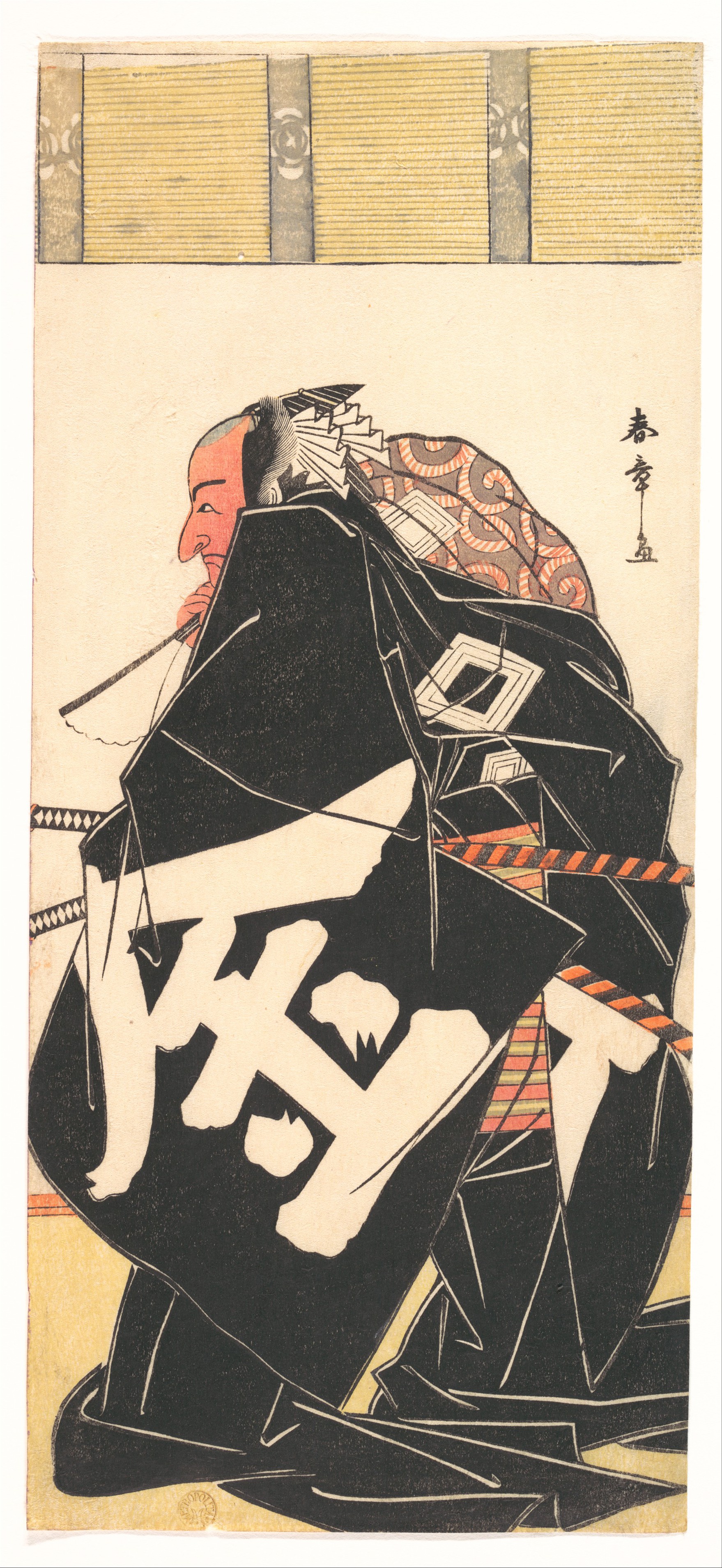 My original count was based on The actor's image. Print makers of the Katsukawa school. The Art Institute of Chicago, 1994. But then I realized that it would be good to also include both Ippitsusai Bunchō 一筆斎文調 act 1764-79 and Tōshūsai Sharaku 東洲斎写楽 act 1794-95 in the count. Bunchō is a direct contemporary of Shunshō and worked for a quite similar audience, and both collaborated on the Picture Book of Fans on the Stage, Ehon butai ōgi 『繪本舞台扇』of I/1770, probably the first colour-printed book, published by Kariganeya Ihei 雁金屋伊兵衛. As for Sharaku, his production of prints, certainly his compositions in the hosoban format, is much more similar to the Katsukawa tradition than to the Utagawa tradition, the focus of Part 4. That this was quite correct can be inferred from the fact that percentagewise, this hardly affected the outcome based on my earlier count of the Katsukawa artists alone, just a difference of one or two percents in only a few cases. For Bunchō, I used 'Ippitsusai Bunchō hanga sakuhin mokuroku' by Hayashi Kyōhei 林京平、一筆斎文調版画作品目録 in the Ukiyoe shūka volumes 浮世絵衆花, and for Sharaku the 2011 Tokyo National Museum exhibition catalogue 東博展.
| | | | | | | | | | | | | | |
| --- | --- | --- | --- | --- | --- | --- | --- | --- | --- | --- | --- | --- | --- |
| | What | I | II | III | IV | V | VI | VII | VIII | IX | X | XI | Prints |
| 1697 1760 | tane urushie | 42% | | 9% | | | | 5% | | | | 29% | 563 99.5% |
| 1742 1769 | benizurie | 27% | 9% | 9% | | 5% | | 6% | | | | 35% | 854 100% |
| 1764 1796 | Katsukawa Bunchō & Sharaku | 17% | 6% | 6% | | 7% | | 9% | 6% | | | 40% | 794 99.5% |
A real problem with most prints by Katsukawa artists, and also those by Bunchō and certainly the hosoban format compositions by Sharaku, is that these were destined at an audience of connoisseurs, who knew the plays, who knew the actors, who were mostly associated with an actor's fanclub, so it was absolutely superfluous to print the names of the actors and their roles, as had been the custom until then. Consequently, it can be quite a problem for us nowadays to associate these prints with specific performances and date them accordingly. We are then lucky to have at least quite a few programmes illustrating the highlights of the plays and details of the performances to be found in the Annual Records of the Kabuki Theatres, Kabuki nenpyō 『歌舞伎年表』. And then there is a small number of prints that were inscribed by a contemporary collector, giving the names of the actor, the role, the theatre, and the date of the performance – as we can see in the figure to the right.
As in the preceding years, when benizuri prints were predominant, prints after performances in the eleventh and first months still take first and second positions, though the difference, percentagewise, is much larger: initially they were 42 and 29%, then 27 and 35%, now they are 17 and 40%, so the first month performances are quite dramatically decreasing. And there are third, fourth, and fifth positions for the seventh month (9%), the fifth month (7%), the second, third and eighth months (each 6%), leaving only the fourth, sixth, ninth, and tenth months out. In summary, we see in the period from 1697 to 1760 that 71% of the prints are after performances in the first and eleventh months, and only 29% such prints are bought by those wanting more than just one or two prints. And in the years when benizurie 紅摺絵 were predominant, 62% were prints after performances in the first and eleventh months, and some 38% were prints after performances in other months, already quite an increase. And in the years of the Katsukawa domination until the end of the eighteenth century, 57% were prints after performances in the eleventh and first months, leaving 43% for prints after performances in the other nine months. This makes it all the more interesting to find out whether something like a stable situation had now been reached, so that designing prints of actors would no longer be a strictly seasonal job for most – we'll see it soon.